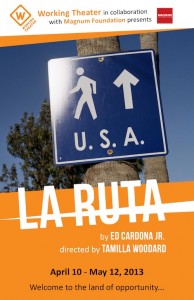 Set Design: Raul Abrego
Costume Design: Emily DeAngelis
Lighting Design: Lucrecia Briceño
Projection Design: Dave Tennent, IMA & Kate Freer, IMA
Sound Design: Sam Kusnetz
Props Design: Claire M. Kavanah
Production Stage Manager: Michael Aaron Jones
Assistant Stage Manager: Sarah Levine
Production Supervisor: Production Core / James E. Cleveland
Associate Production Supervisor: Jared Goldstein
Production Manager: Ron Grimshaw
Assistant Production Manager: Casey Rowe
Casting Director: Stephanie Klapper
Press Representation: Daniel DeMello
Assistant Director: Darya Gerasimenko
Fight Direction: UnkleDave's Fight-House
Trucking provided by the Theatrical Teamsters Local 817.
LA RUTA
by Ed Cardona, Jr.
directed by Tamilla Woodard
with Brian D. Coats, Zoë Sophia Garcia, Annie Henk, Bobby Plasencia, Jacob Alden Roa, Gerardo Rodriguez, Sheila Tapia
Commissioned by Working Theater in 2011, LA RUTA, by Ed Cardona, Jr., directed by Tamilla Woodard, is an immersive theatrical experience that follows the journey of several undocumented immigrants as they cross the border into the U.S. to make a better life for themselves and their family. The play is staged inside the trailer and cab of an actual 48′ truck with the audience experiencing the journey alongside the characters, surrounded by the harsh reality of their environment and the poignant narrative unfolding within.
The play toured the Five Boroughs of New York City. A photographic installation by the Magnum Foundation accompanied the production.
Venue Partners:
April 10 – April 14, 2013
UFT Bronx Borough
April 16 – April 29, 2013
The Cathedral Church of Saint John the Divine
May 1 – May 5, 2013
IBEW Local 3 Headquarters
May 8 – May 12, 2013
Snug Harbor Cultural Center and Botanical Garden
NYTIMES THEATER REVIEW: Smuggling a Captive Audience Across a Border