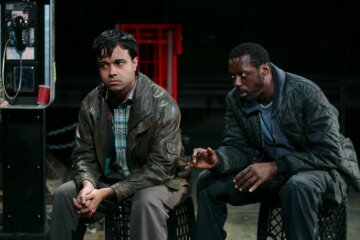 by Mike Batistick
directed by Connie Grappo
with James Murray Jackson, Jr., Annie McNamara, Debargo Sanyal and Aladdin Ullah
The Access Theater
Pervez, a Pakistani cab driver, is haunted by the ghost of his religious brother after he is picked up by the FBI on suspicion of terrorist activity. The brothers came to America to live a secular life in relative safety and now find themselves on two very different paths as they each respond to the alienation they feel here.  Pervez reaches out to a homeless alcoholic who lives in the men's room at Port Authority and a Christian missionary from Akron, Ohio as he attempts to navigate the lonely terrain of post-9/11 New York City.