What is the Special Constituencies Initiative?
Working Theater's Special Constituencies Initiative program is a grassroots audience outreach that offers discounted tickets to working people in New York. The goal of Special Constituencies Initiative is to change the face of the traditional theater-going audiences to reflect the true racial and socio-economic diversity of New York by removing the barriers that keep non-traditional audiences from the theatre. By creating direct outreach opportunities, and creating individualized group pricing and offers, Working Theater is able to ensure everyone who wants to come to the theater has a seat.
If you think your organization would be interested in our Special Constituencies Initiative, or if you want to learn more about the program, please contact [email protected]
To Fulfill its mission…
Special Constituencies Initiative identifies specific groups that are underrepresented in Working Theater's audience and then cultivates relationships with the labor and community organizations that serve these groups. This allows us to address concerns relevant to them in our productions and programs. Because of the Special Constituencies Initiative, more than 75% of The Working Theater's audience members are working people from all five boroughs of New York City. Many of these individuals live on a modest wage, and rarely, if ever, experience live performance. Tens of thousands of working people have taken advantage of the Special Constituencies Initiative program, and we are proud to have worked with such organizations as UNITE!, Local 1199/SEIU, Local 371 AFSCME, CWA Local 1180, Transport Workers Local 100, Local 300 NPMHU, the Caring Community, Association of Hispanic Artists, Center for Workers Education, Cornell School for Industrial and Labor Relations, Central Labor Council, and Latino Workers Center.
Testimonials From Special Constituencies Members
"My relationship to the Working Theater started many years ago. The United Federation of Teachers has always been connected to the Working Theater's mission. We have been able to bring members to see and feel the things that we are fighting for every day on a stage. For me, it has been a valuable organizing tool. My fondness for the theater and for Mark and Laura has only made the experience that much more fulfilling. "
Hector M. Ruiz, Jr., Special Representative at United Federation of Teachers
"It's become a tradition for PSC members to know about and attend Working Theater performances. The productions always give us something to talk about beyond our own situation. Actually, they broaden and intensify our connection to the wider world of labor. People still talk about Electchester and the performance in a truck in the parking lot of St. John the Divine."
Marcia Newfield, PSC Retiree
"Working Theater fulfills a void that is left when members leave the workforce. When 1180 takes retiree members to attend shows that reflect many of the struggles and experiences they shared while working, you can see and feel the positive energy from our members. Many express that they are glad to know that someone out there is aware of what working people experience on a daily basis and Working Theatre works tirelessly to tell the struggles in a serious and humorous way. Members are always excited to see what is coming next."
Dianne Mason-Smith, CWA Local 1180 Retiree
Read About The Postal Workers Union at Port Authority Throwdown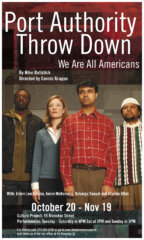 "Our trips are usually to things like baseball games," says Linda Yancey, recording secretary and chairperson of the Women's Committee of Local 300 of the National Postal Mail Handlers Union, "but that's not necessarily what everyone likes to do. Going to see Port Authority Throw Down gave our members a chance to get together outside the workplace and do something different." In November 2006, Yancey and more than 100 of her co-workers from the tri-state area attended a sold-out performance of the play under the auspices of The Working Theater's Special Constituencies Initiative, which offers discounted tickets to unions and other organizations. The event was a huge success, says Yancey: "The next day my email was flooded with good feedback; everyone wanted to know when we're going to do it again. Our members work hard and many of them just don't get out of the house once their workday is over. Our Women's Committee wanted to give them the chance to get a little dressed up, come to the city and have a fun evening." Port Authority Throwdown was a particularly apt choice for the NPMHU audience, since the play explores the social, racial and religious clash of cultures in post-9/11 New York City. "Our union membership used to be primarily Caucasian," says Yancey. "Today we have more and more Indian and Asian members. It was good to see the racial diversity of our real lives reflected on the stage. The Working Theater's Special Constituencies Initiative truly benefited our members; we're all looking forward to the next show."