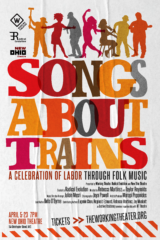 This is an in-person event. To best protect everyone present for these gatherings, please be aware that all patrons 5 and older will be required to present proof of full vaccination upon entry. Additionally, all patrons must wear face masks in order to experience the production. For more information, please see our full COVID Safety Guidelines.
Working Theater, Radical Evolution, and New Ohio Theatre present
SONGS ABOUT TRAINS
April 5-23, 2022
at the New Ohio Theatre, 154 Christopher St #1E, New York, NY 10014
Created by: Radical Evolution
Directed by: Rebecca Martínez and Taylor Reynolds
Music Director/Arranger: Julián Mesri
Choreographer: Joya Powell
Artistic Producer: Meropi Peponides
Lead Author: Beto O'Byrne
Contributing Authors: Eugenie Chan, Reginald Edmund, Rebecca Martínez, Jay B. Muskett
an Archive Residency premiere in partnership with IRT Theatre
Featuring: C.K. Edwards, Christian A. Guerrero, Cedric Lamar, Julián Mesri, Beto O'Byrne, Sara Ornelas, Jessica Ranville, Xiaoqing Zhang.
Tickets are priced according to our Sliding Scale Ticketing Initiative, reflecting Working Theater's commitment to accessibility and the belief that theater should not be a luxury or a privilege. We want to make play-going a regular part of our lives. All are welcome here. To learn more and which ticket price is right for you, please visit here