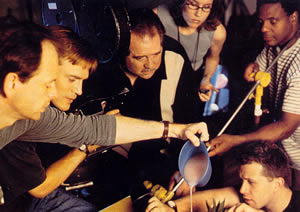 World Premiere
by Robert Ackerman
directed by Connie Grappo
with Rob Bartlett, Harvy Blanks, Jack Koenig, Dean Nolen, Elizabeth Hanly Rice, Jeremy Webb
American Place Theater
Nominated for two Drama Desk Awards, winner of special Drama Desk Award for outstanding Ensemble Performance
Tabletop takes you into the crisis-a-minute world of a TV commercial film studio which provides the product shot, or close-up, of the item the advertisers would like to convince you is absolutely essential to your well-being and survival. The play spans an afternoon of desperate re-shoots in the studio of Marcus Gordon, an autocratic director negotiating the slippery slope of advertising's A-list. Egos clash and burn, truths are revealed and concealed, people survive their jobs, and the work survives the pathology of the workplace. Tension and hilarity alternate unexpectedly as Marcus and his crew pursues the perfect beauty shot of the hero, a pink fruit drink with a swirl on top.
"Tabletop is the best new American play in quite awhile" Donald Lyons, New York Post, July 19, 2000
"Dean Taucher. . . has turned the performance space into a photographic studio so filled with authentic tools and equipment that it practically drags you into it. And the six people working in it put so much pressure on each other in pursuit of the perfect commercial that after 100 minutes you feel like slouching home to a friendly gin bottle. . . Mr. Ackerman has long been a property master for films, television commercials and shows, and he has acute eyes and ears for telling details." D.J.R. Bruckner, The New York Times, July 25, 2000
"Two Davids, Story and Mamet, have popularized the workplace play, a genre to which Rob Ackerman now contributes his highly estimable Tabletop. The title refers to TV commercials that are usually shot on a tabletop. The author is a practicing property master, and even if he is not a master dramatist, his observation, hearing, and orchestration are masterly enough." John Simon,New York Magazine, August 14, 2000